Answers to questions that are top of mind for institutional investors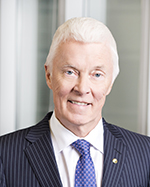 Philip Gillin
Executive Vice-President and Portfolio Manager, Bentall Kennedy (Canada) Limited Partnership and Sun Life Investment Management
How can I manage risk and enhance yield on my fixed income portfolio?
There is a wide range of alternative fixed income investments in the marketplace, from private fixed income to commercial mortgage backed securities. And depending on the type of investment and the quality of the asset, you can find investments across the risk-reward spectrum.
One of the alternative fixed income investments on the lower-end of the risk scale that's often overlooked is the conventional commercial mortgage. There are a lot of other products out there that are more esoteric and hold the potential for higher yields. But it's hard to ignore an asset class that routinely delivers returns above risk-free government treasuries and is on the conservative end of the risk spectrum.
Commercial mortgages lie outside of the realm of government and corporate bonds, so diversification is increased through exposure to a broad range of borrower covenants backstopped by tenant rental payments.
So why are commercial mortgages not included in the asset mix of many pension plans? In our experience, there are a few reasons. First, commercial mortgages are tied to real estate, which is a private asset class that not everyone has exposure to or understands. Second, few pension funds have the ability to originate mortgages directly and may not know where to turn to find an intermediary to do this. And third, mortgages are less liquid than public bonds, and require a longer-term commitment. Of course, some of the higher yield for commercial mortgages is linked to this illiquidity premium, but by giving up some liquidity, investors may be rewarded with significantly higher yields.
In terms of familiarity with the asset class and the origination of mortgages, that's really where professional management comes in. Insurance companies like ours have been originating mortgages and investing in this asset type for decades, and they remain a mainstay of our balance sheets.
Investors can also consider moving up the risk/return spectrum to enhance yield.
We believe the current market provides opportunities to achieve superior risk adjusted returns in the high yield mortgage lending space, and, there are funds available, which can provide access to this segment of the mortgage market.
Risk management is critical. For our core mortgage portfolio, we're looking to create a portfolio of mortgage assets that are of very high quality, rated BBB or better, that are attached to high quality properties in established markets with proven tenant demand. We look for borrowers who have experience in the leasing of the asset, whether it's office, retail or industrial, and that attract quality tenants that can help ensure the durability and quality of the income stream. By focusing on properties that are well-managed, have a strong level of tenant demand, and have an income stream that's as bullet-proof as possible, we go a long way to protecting our investment.
In terms of choosing a manager for a commercial mortgages investment, it's important to look for a congruence in investment philosophy and strategy. If you want a conservative core portfolio, make sure that's the expertise of the manager. You also want a manager who can originate assets directly, has intimate knowledge of assets, borrowers deal structure and pricing, and who has a proven track record in the asset class.
Of course, every pension fund is different, and the specific optimization of a fixed income asset allocation for a plan requires a more precise look at plan liabilities. That said, most plans can benefit from the increased diversification and higher yields that an allocation to alternative fixed income investments like commercial mortgages can provide.
Philip Gillin is Executive Vice-President and Portfolio Manager, Bentall Kennedy (Canada) Limited Partnership and Sun Life Investment Management. The Sun Life Investment Management group of companies offers institutional investors across North America access to long-standing expertise in fixed income, private assets and real estate investments. Bentall Kennedy, a Sun Life Investment Management company, is one of the largest global real estate investment advisors and one of North America's foremost providers of real estate services. Bentall Kennedy includes Bentall Kennedy (Canada) Limited Partnership, Bentall Kennedy (U.S.) Limited Partnership and the real estate and mortgage operations of their affiliates. To read Phil's full bio click here.
What has been on your mind? If you have a question for Phil please email him at Philip.Gillin@sunlife.com
This article is intended for Canadian institutional investors only. It is not for retail use or distribution to individual investors. The information in this article is not intended to provide specific financial, tax, investment, insurance, legal or accounting advice and should not be relied upon and does not constitute a specific offer to buy and/or sell securities, insurance or investment services. Investors should consult with their professional advisors before acting upon any information contained in this article. All opinions and commentary are subject to change without notice and are provided in good faith without legal responsibility.
Philip Gillin is registered as a portfolio manager and dealing representative (exempt market dealer) under both BKC Capital Inc. (BKC) and Sun Life Institutional Investments (Canada) Inc. (SLIIC). BKC is a subsidiary of Bentall Kennedy (Canada) Limited Partnership. Both BKC and SLIIC are members of the Sun Life Investment Management group of companies and are affiliated entities. Mr. Gillin's dual registration may present conflicts of interest. Mr. Gillin is subject to supervision by both BKC and SLIIC and each firm maintains policies and procedures that address potential conflicts of interest.
© 2017, Sun Life Institutional Investments (Canada) Inc.